Emergency Dental Care
Emergency Dentist in Fort Worth, TX
At Centreport Smiles, we understand that dental emergencies can happen when you least expect them. That's why Dr. Lala, a highly skilled emergency dentist in Fort Worth, TX, is always on standby to provide quick and efficient emergency dental care. She and her team are committed to alleviating your pain and ensuring your oral health is back on track as soon as possible.
Accidents Happen, We Are Here to Help!
Sometimes life is unpredictable and you may need to find an emergency dentist near you. Whether you're an out-of-towner or local, you will easily find us in Forth Worth, just off Trinity Blvd, and can provide emergency dental treatment when you need it. Have you ever lost a crown? Or chipped your tooth during an athletic event? The bottom line is that dental emergencies are not only stressful and inconvenient but can cause you immense discomfort as well.
At the heart of our emergency dental care service is Dr. Lala. She is not just a dentist but an empathetic caregiver who prioritizes your comfort and well-being. She has been trained in state-of-the-art dental procedures to ensure she can handle a broad spectrum of dental emergencies. You can rely on her and her team to quickly address any dental issue you are facing.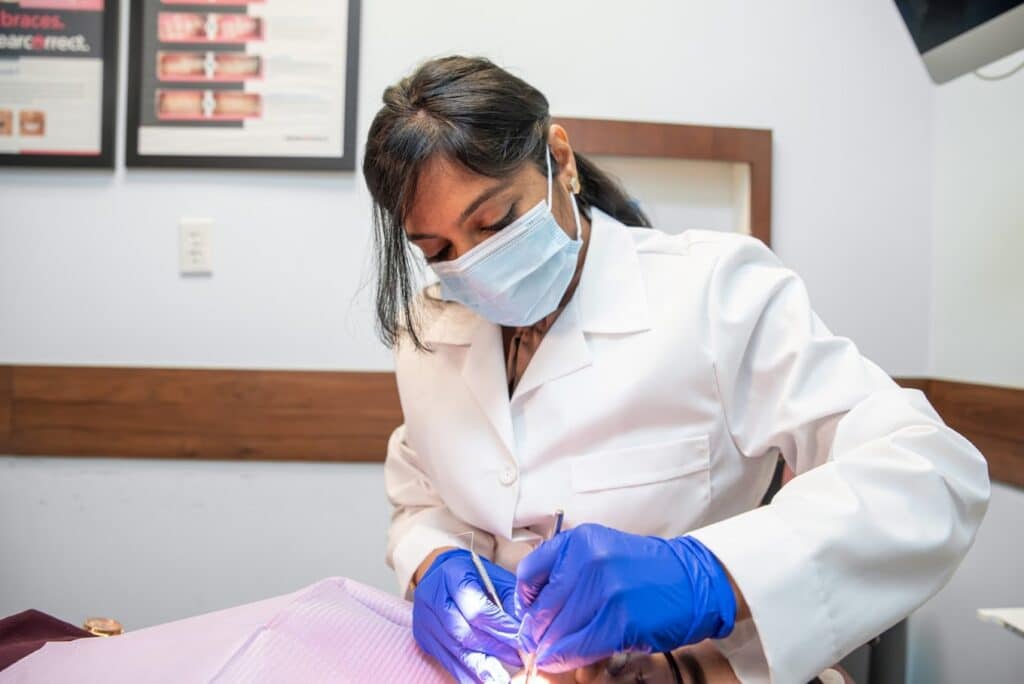 What To Expect During An Emergency Visit?
An unplanned visit to the dentist can be stressful. However, understanding what to expect can help ease your anxiety. Here's a step-by-step guide to your emergency visit with Dr. Lala, your trusted emergency dentist in Fort Worth, TX.
Immediate Evaluation
On your arrival, our friendly staff will quickly usher you to a comfortable private exam room. Dr. Lala will conduct a preliminary evaluation to understand the extent of your dental emergency. She will ask about the symptoms you've experienced, how and when the problem began, and if there was any specific incident that caused the issue.
Diagnostic Exams
Depending on your situation, Dr. Lala may order diagnostic exams, such as X-rays, to get a clear picture of the problem. This step is crucial to pinpointing the root cause of your discomfort and determining the best treatment plan.
Pain Management
Your comfort is our priority. Before starting any procedure, Dr. Lala will administer an appropriate form of anesthesia to numb the affected area and alleviate your pain. This ensures you feel as little discomfort as possible during your treatment.
Treatment
After diagnosing the problem, Dr. Lala will discuss your treatment options. Whether it's reattaching a knocked-out tooth, treating an abscess, or replacing a crown or filling, she will ensure you're fully informed and comfortable before proceeding.
Post-Treatment Care
After the treatment, Dr. Lala will provide specific instructions for post-treatment care. This may include prescription medications, diet recommendations, and guidelines for oral hygiene. It's crucial to follow these instructions to ensure your swift recovery and prevent any complications.
Follow-Up Appointments
In some cases, a follow-up appointment may be necessary to monitor your healing process or complete your treatment. If this is the case, our staff will work with you to schedule a suitable time.
Emergency Dentist Services in Fort Worth, TX
Dr. Lala and her team at Centreport Smiles are equipped to handle an array of dental emergencies, including:
Toothaches and Abscesses
A severe toothache or abscess can strike at any time, causing debilitating pain and discomfort. It is vital not to ignore these symptoms as they could signify a serious underlying condition, such as an infection or abscess.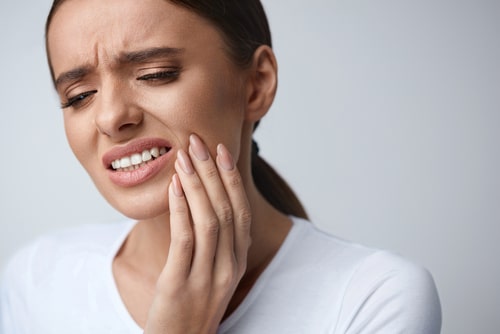 Broken or Chipped Teeth
Trauma or accidents can lead to chipped or broken teeth. Besides causing pain, they can also affect your bite and overall appearance. Immediate treatment is necessary to prevent further damage and complications.
Knocked-Out Teeth
A knocked-out tooth is a dental emergency that requires immediate attention. Dr. Lala's timely intervention can increase the chances of saving the tooth.
Lost or Damaged Fillings and Crowns
Lost or damaged fillings or crowns can expose your tooth to damage and decay. Swift action can prevent further problems and protect your oral health.
FAQs About Emergency Dental Care
1. What is considered a dental emergency?
A dental emergency is any situation that requires immediate attention to relieve severe pain or treat a high risk of tooth damage. Examples include severe toothaches, knocked-out teeth, broken or chipped teeth, lost or damaged fillings or crowns, and more.
2. What should I do if I have a dental emergency?
If you have a dental emergency, immediately call Centreport Smiles. Our knowledgeable staff will guide you on what to do and arrange for an emergency appointment with Dr. Lala.
3. Can I visit Centreport Smiles for a dental emergency if I'm not a regular patient?
Absolutely. Dr. Lala extends her emergency dental services to all individuals, whether they're regular patients or not.
4. How quickly can I be seen in an emergency?
We strive to see you as soon as possible, often on the same day. The severity of the situation also plays a role in how quickly we can get you into our office.
5. What if I have a dental emergency outside of normal office hours?
If you have a dental emergency outside of our normal office hours, you should still call our office. We have an emergency service that can assist you, and we'll arrange to see you as soon as we can.
6. Will my insurance cover emergency dental care?
Coverage for emergency dental care can vary significantly depending on your insurance plan. It's always best to check with your provider directly. Our staff can assist you in understanding and navigating your insurance coverage.
7. What can I do to prevent dental emergencies?
Regular check-ups, proper oral hygiene, using mouthguards during sports, and avoiding hard foods that could crack or chip your teeth can significantly reduce the risk of dental emergencies.
8. Can children receive emergency dental care at Centreport Smiles?
Yes, Dr. Lala is experienced in dealing with dental emergencies in patients of all ages, including children.
See Your Emergency Dentist in Fort Worth, TX
Centreport Smiles is committed to providing timely and efficient care to all patients. When you call our office with a dental emergency, our friendly staff will provide guidance over the phone and arrange for you to see Dr. Lala as soon as possible. For added convenience, Dr. Lala is available on Saturdays by appointment only. Call us at (817) 396-7973 or book an appointment online.
When dental emergencies happen, you need a reliable and experienced emergency dentist in Fort Worth, TX. Trust our team at Centreport Smiles to provide the emergency care you need when you need it the most.
Related Services
We have aesthetic solutions that can be applied to any smile, from handcrafted porcelain veneers…